The latest CC3+ update is 28 (version 3.98, released June 1st 2022). Download it from your
Registration page
.
Tutorial: Creating a Wall Mask (with SS4) [Video]

Dogtag
Traveler
Moderator, Betatester
Hi folks,
Below is a video demonstrating how to create a Wall Mask using
Symbol Set 4 - Dungeons of Schley
(SS4). There are slightly different kinds of wall masks so this video specifically shows how to create a wall mask with SS4, as described in the SS4 Mapping Guide. If there's enough interest, I may be able to do another video about wall masks in general.
Creating a Wall Mask (with SS4) Tutorial (Video, 13:40)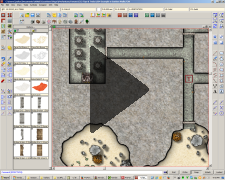 I hope it helps. If it does, you may be interested in some of the other
video tutorials I've posted
.
Cheers,
~Dogtag