Altenberg A city in Jon Roberts style.
After getting city designer this is my first attempt on creating a city map :
City of Altenberg an important city in the heart of the imperium and the seat of the duke of Fuersten and the Arch-Marchall of the Imperium.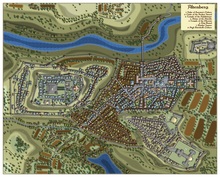 I need some help with 1 small problem.
I used some bitmaps from the bitmap A classic style but I couldn't figure out how to extract the roof colors from the Jon Roberts style onto these roofs.