Idea for Fields
Don't know if I have seen this posted before, so I thought I would share...
For realistic looking farmed fields, I used Google Earth and zoomed in to actual fields. Central United States, England, or France all work well. I then used screen capture to grab a small (roughly 150 pixels square) section from a number of different looking fields like these: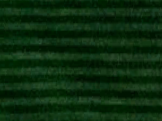 Interestingly, the fields in the U.S. tend to be oriented on the compass points, while those in Europe are more random. I'm guessing they were originally laid down before widespread use of the compass and those in the U.S. were made to follow N-S and E-W roads. Anyway, take your small PNG and use it to build a new bitmap files fill style.
I scaled each to 40' in the direction of the furrows to get the size right and 100' in the perpendicular direction to reduce the tiling effect.
Here are the results (obviously using U.S. oriented fields)
- Matt